Best Pubs in Bridport
---
Bridport is a vibrant West Dorset market town with a great selection of traditional pubs. There's plenty of choice so we've helped narrow it down a little with this guide to the best pubs in Bridport.
As the spiritual home of our historic Dorset Brewery, Bridport and its pubs are an important part of Palmers' history. Palmers award-winning range of fine cask conditioned ales are available at most of the pubs in Bridport. Expect to find locally produced premium ale on tap, great food and family friendly atmosphere. 
Ropemakers
Ropemakers is one of the most well-known and popular pubs in Bridport. An institution of the town, due to its central location, classic pub food, and unique character. Precious artifacts and memorabilia cover the walls. Many of the items pay homage to the rope-making history in Bridport. With regular live music at weekends, The Ropemakers is the place to be for lively atmosphere and good cheer.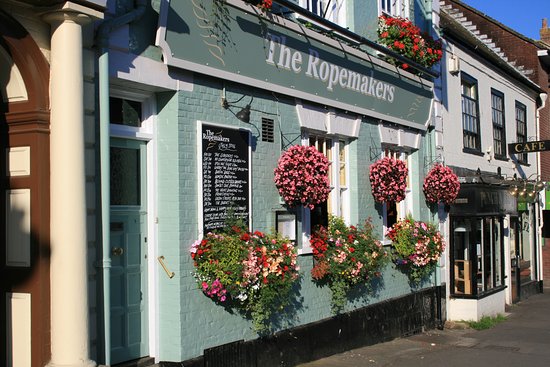 The Crown Inn
The Crown Inn is an instantly recognisable traditional pub situated on The Crown Roundabout. Suitable for all the family with large outside area and ample car parking space.
Its location is out of the town centre but the closest pub to Palmers Brewery, making it a convenient stop-off after a brewery tour for a nearby bite to eat. This classic pub also showcases entertainment with regular music performances and live sport.
George Hotel
Situated on South Street in Bridport town centre, The George Hotel has a prime location near the lively Bucky Doo Square. This is an establishment with all the hallmarks you'd expect from a classic pub, including traditional home cooked food and cosy atmosphere. An ideal pit stop on bustling market day, you'll find a fine selection of well-kept local ales and tempting wine list.
Market House
The Market House is a spacious Palmers pub on Bridport's West Street. The outside seating at the front provides a roadside seat to sit and watch the passing hustle & bustle. Alternatively, if you're looking for a quieter spot to sit an enjoy a relaxing pub meal and drinks, there is plenty of outside dining space at the rear of the building. The Market House has several different parts inside, giving it a more contemporary feel than some of the other Palmers pubs. An ideal spot to dine with family and friends with a spacious yet intimate feel.
Lord Nelson
With 168 successful years behind it, The Lord Nelson is one of the longest running Bridport pubs. This is a historic pub with a distinctively warm and inviting atmosphere. The open log fire is normally lit in the colder months, providing added character. The three letting rooms offer spacious accommodation in Bridport with en-suite facilities. You can a book a room at Palmers pubs using our Stay at our Inns feature. Follow the long tradition of satisfied pub guests who have been enjoying Palmers cask ale for generations in The Lord Nelson, and will continue for many years to come.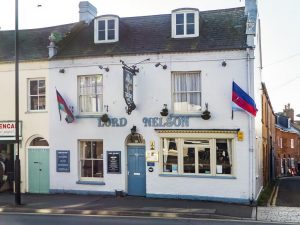 White Lion
The White Lion is a vibrant Bridport pub located alongside the River Britt, just a stone's throw from the town centre. Benefitting from a recent refurbishment, the pub boasts more of a modern feel than some of Palmers more traditional pubs. Having been tastefully kitted out with contemporary touches, this fine Bridport pub has the lot. You'll find a spacious beer garden with BBQ area as well as comfortable seating inside where you can keep tabs on all the action of live sport. The riverside setting completes the offering for this upcoming Palmers pub.