Palmers Brewery has raised nearly £6,000 for the Dorset and Somerset Air Ambulance flying fund.
The Bridport brewery donated 5p from each pint or bottle of its anniversary ale, Palmers 200, to the life-saving charity. During the five years Palmers has supported the Air Ambulance in this way it has raised nearly £30,000.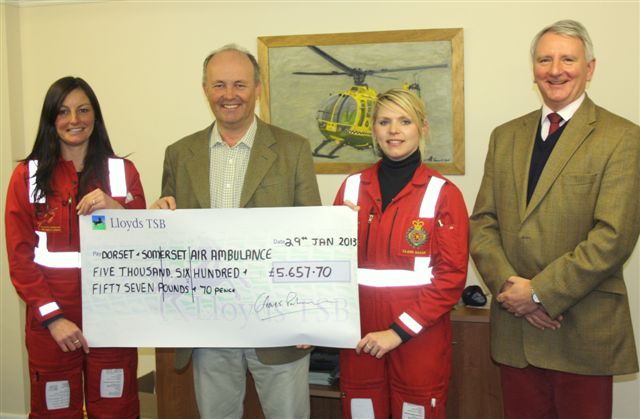 Cleeves Palmer, Sales and Marketing Director, visited the Air Ambulance airbase in Henstridge to present the cheque.
He said: 'The Dorset and Somerset Air Ambulance is a cause close to many people's hearts, because any of us could have to call on it at any time. Some years ago it helped my wife after a riding accident, so it is a cause close to my heart.'
The Air Ambulance's fundraising co-coordinator, Annette Plaistow-Trapaud, said: 'On behalf of Dorset and Somerset Air Ambulance I would like to say thank you to Palmers Brewery and all their customers for supporting us.
'On average, we attend three to four incidents a day. However this number significantly increases during the summer months. We can be anywhere within the two counties in under 19 minutes of an emergency call.
'We receive no direct Government or National Lottery funding and need to raise £1.5 million a year to keep flying.'
Supporting charities
Palmers Brewery has long played an active role in supporting charities and initiatives at the heart of the community. Every year they make substantial donations in money and in kind.
Palmers' record of giving goes back many decades. In the 1970s they gave the land for the Bridport branch of the St John Ambulance.
In the 1980s Bridport Leisure Centre was originally funded by the sale of land Palmers gifted to the West Dorset Sports Trust.
More recently, they have helped young and disabled people enjoy the thrills of sailing through the Chesil Trust. And they are proud to be the first major sponsor of the Bridport Gig Rowing Club. Later this spring the brewery is launching a good causes fund for local community projects.